About us
Hotel Maranduba is located in Ubatuba, north cost of São Paulo, just between the ocean and the Atlantica forest.

Literally "on the beach", Hotel Maranduba offers accommodations for couples and families, an ocean view swimming pool, a deck with sun loungers for you to relax and appreciate all the natural beauty that surrounds us.

The hotel is close to some beautiful waterfalls and also a mini center with shops, markets and drugstore.

So, it is the perfect place for your vacation or just some time off from the routine.
Our Accommodations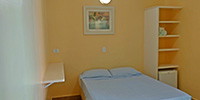 Our rooms accommodate 2, 3 or 4 people; adults and children.
+ See more Info
Facilities
Get to know our facilities, external area, swimming pool and our restaurant.
Information
Check-in / check-out time, reservation and payment information and cancellation policy.